Links
Links are fundamental to how the internet works, by creating connections between all the disparate documents on the web. Internal links are connections between pages on the same website, and internal linking can have a huge impact on the ranking ability of a given URL.
This article will explain how internal links can help search rankings, and how issues with links can have the opposite effect. Throughout the article you will find links to all the relevant Hints that Sitebulb uses.
The value of internal links
Most everyone in the SEO industry understands the power of backlinks from other websites (inbound links), which count as 'editorial votes' for a URL in the eyes of search engines.
One of the things that set Google apart, when they first came on the scene, was their calculation of a URL's relative value based on incoming links, through their PageRank algorithm.

Since then, 'link building' has been big business, with SEOs taking various approaches to creating links back to their pages from other websites. However, since the PageRank algorithm is URL-agnostic, you can 'manipulate' the search engines in a similar way by adjusting your internal links.
So if you have a page for which you have spent a long time creating fantastic content, and you think it has a great chance to rank for lots of keywords, you can increase the PageRank of this page and give it a better chance to rank by pointing more internal links at it. This will complement any external backlinks you develop to this page.
Internal link optimization represents one of the most effective on-site optimization techniques, and you can make big gains in organic search by improving internal linking.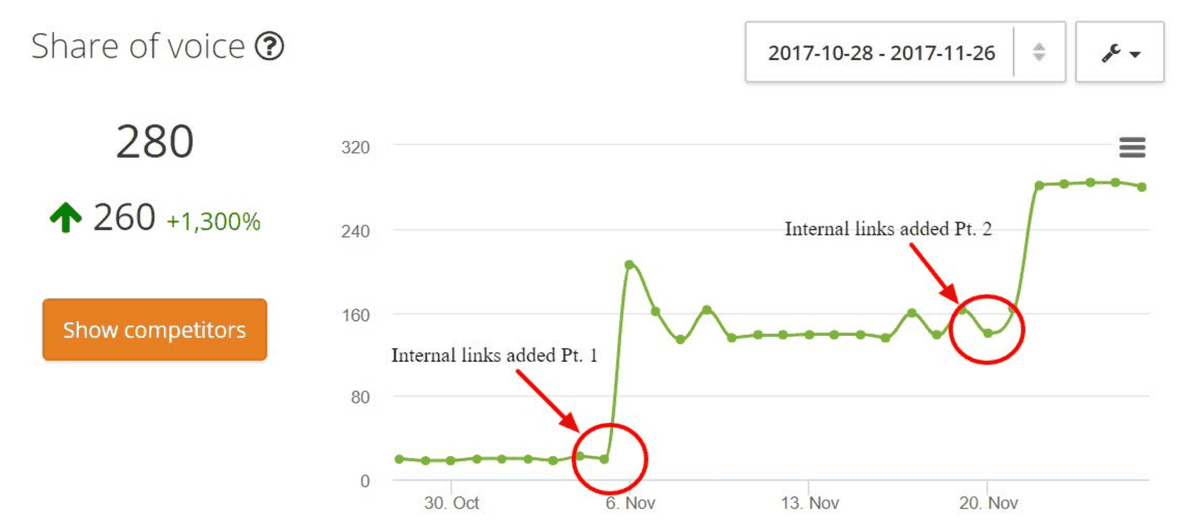 Image shared by Andy Drinkwater of iQ SEO.
Links Issues
Most of the Links Hints are Issues, which represent errors or problems that need to be fixed. They are additionally classified in terms of their importance - this should be taken into account when prioritizing implementation work, along with the number and type of URLs affected.
Importance: Critical
These Hints require immediate attention, as the issue may have a serious impact upon crawling, indexing or ranking.
Importance: High
These Hints are very important, and definitely warrant attention.
Importance: Medium
These Hints are worth investigating further, and may warrant further attention depending on the type and quantity of URLs affected.
Importance: Low
These Hints are of the lowest significance, and should only be addressed if there aren't more serious issues which have not been handled.
Links Potential Issues
Hints marked 'Potential Issue' describe a situation that might be an issue, or might cause an issue. In the case of Links Hints, they typically highlight situations which are worth investigating, as there may be an underlying issue there which needs exploring further.
Links Opportunities
Hints marked 'Opportunity' describe where you could optimize the site to potentially improve performance further.
Links Insights
Insights are neither issues nor opportunities, and often don't require any action at all - they are brought to your attention as they may provide a useful avenue of investigation.