Accessibility
Website accessibility is about designing and developing your website to make it usable and accessible for users with disabilities. More specifically, accessibility allows disabled users to perceive, understand, navigate, and interact with your website.
Improving your site's accessibility also has a number of user benefits for those who are not disabled, such as users on smaller screens, older users, and people with 'situational limitations' such as in bright sunlight or in an environment where they cannot listen to audio
Automated accessibility testing
Sitebulb's accessibility audit utilizes the open source axe library developed by Deque, running 50+ automated accessibility checks against the content and code of every page of your website.
This is the same technology that powers the accessibility audit in Google's Lighthouse tool, so you can perform a spot-check on a single URL or debug further in the browser using Lighthouse.
Sitebulb's Hint system will show you every violation found on each page, and each violation is wired up to the Deque University axe Rules via a Learn More link, which explain what the rule means, what it is looking for, and how to fix it.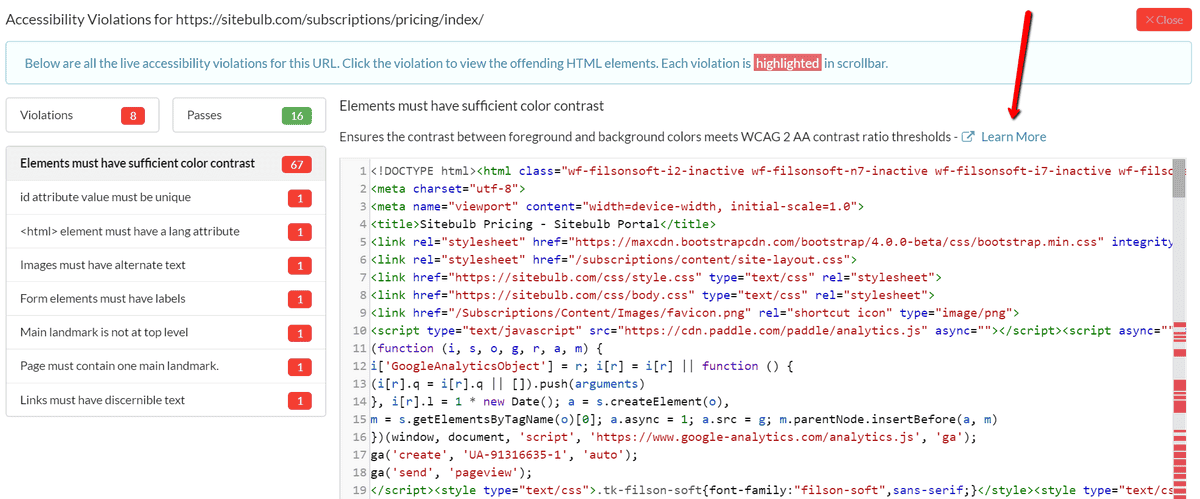 Accessibility Hints
The accessibility ruleset spans a number of different aspects, as follows:
WCAG 2.0 Level A & AA Rules
WCAG 2.1 Level A & AA Rules
WCAG 2.0 and 2.1 level AAA rules
All text elements must have sufficient contrast between text in the foreground and background colors behind it in accordance with WCAG 2 AAA contrast ratio thresholds.
Best Practice Rules
Experimental Rules