Medium

This Hint is worth investigating further, and may warrant further attention depending on the type and quantity of URLs affected.
Issue

This Hint represents an error or problem that needs to be fixed.
Query string contains tracking parameters
This means that the URL in question contains a query string with parameters that are typically used for tracking.
Why is this important?
Tracking parameters are added to URLs in order to aid data analysis in terms of user acquisition and engagement, and they may have been added either deliberately or accidentally. 
An example of a website deliberately including tracking parameters is if they have added them in order to pass data into an internal analytics tool that reports on user-journeys through the website.
An example of a website accidentally including tracking parameters is if content has been manually added by a content writer, and they have copied a link out of an email and forgotten to remove the tracking parameters. This can create duplicate pages and overwrite the original session data, which can lead to inaccurate traffic reporting and make it difficult to track user behavior.
Google state the following in their URL structure guidelines:

What does the Hint check?
This Hint will trigger for any internal URL which contains a query string with any of the pre-defined list of tracking parameters. The list of common tracking parameters which Sitebulb checks against can be adjusted in the global settings.
Examples that trigger this Hint
The Hint would trigger for any URL with a query string using a common tracking parameter, for example:
https://example.com/page1?utm_medium=email
How do you resolve this issue?
If tracking parameters are being added deliberately for user tracking, the best solution is to work with your developers to come up with a different way of tracking users - for example using cookies instead.
If tracking parameters are being added accidentally, you can work through each link case by case and strip the parameters to resolve the issue, and you may advise additional training for internal staff members to ensure the issue does not happen again in future.
They can cause crawling issues in terms of the accuracy of your analytics data, and affects the cleanliness of the website crawl data. For example, since URLs that contain tracking parameters are almost always canonicalised back to the version of the page with no tracking parameter, this means that you will end up with duplicate URLs in your audit.
As such, the best solution for this issue is to isolate the pages that contain outgoing links using tracking parameters, then adjust the links to remove the parameters.
Approaching these one by one, you would need to start with the URL List for this Hint, and right-click on one of the URLs to bring up the context menu. Choose URL Details -> Incoming Links:
This will open the URL Details view for the URL in question, and you'll see the incoming links for this page: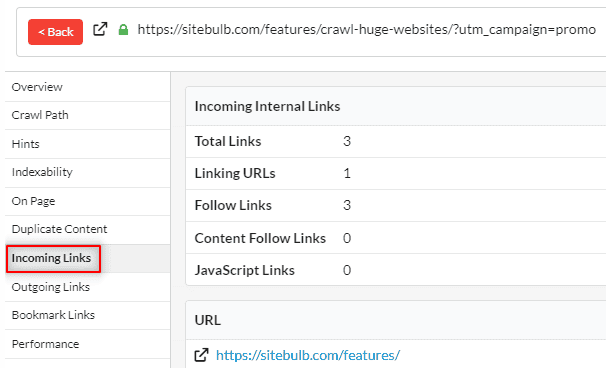 You'll need to work through all of these URLs that link to the URL with tracking parameters, manually removing the parameters from the links in the CMS.
If you wanted to approach this task in bulk (or send it to a client/developer) you could navigate to the URL List from the Hint, then open the 'Export' dropdown and select 'Incoming Links.'

This will generate a spreadsheet (either CSV or Google Sheets upload) with all the URLs affected, in addition to all the incoming links to those URLs - which would allow you to work through each one and fix them in turn.