SEO Audits - What they are and how to get started
Geoff Kennedy
Published 10 February 2021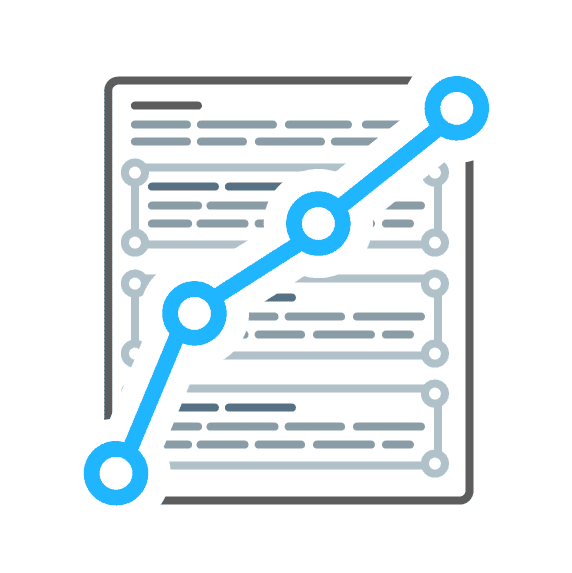 New to SEO audits? Or looking to refresh what you know about them? This guide gives overview of what SEO audits are, why they're important for SEO, and the different sub-types of SEO audit there are.  Later on in the guide, I also look at what you need to consider when looking at how long they should take, and how much they should cost.
Table of Contents:
What is an SEO Audit?
It's a term that gets thrown around a lot, but what actually is an SEO audit? As is typical in SEO: it depends.
SEO (or Search Engine Optimization) is a pretty broad discipline, and as such 'SEO audit' is often used as a catch-all name which could refer to a number of different types of audit.
Later on in this guide we'll give an overview of some of the main types of SEO audit there are. But before that we're going to take a look at some of the wider details around what SEO audits are and how you should use them.
What's the Purpose of an SEO audit?
Although SEO audits may take many different forms, as the name suggests they typically have a common end goal: to improve a website's presence and performance in Google and other search engines.
The way they can help to do this is by identifying issues and opportunities:
Issues which may be having detrimental effects on a website's performance in the search engines (or have potential to do so in the future).
Opportunities to improve a website's performance in the search engines.
How do Audits Fit into the Wider SEO Landscape?
It's difficult to generalise about all types of SEO audits, but they usually fall into three different scenarios:
When a business hires a new SEO agency, one of the first pieces of work is usually an audit, or series of audits covering different areas. This helps to get a picture of the current situation, sets a benchmark, and should feed into a strategy for moving forward. This same process often happens in-house when a new SEO joins a business.
The second scenario is more of a reactive occurrence. Sometimes traffic or conversions drop, business changes may require a change of strategy, or sometimes (if you're lucky) budget becomes available and an assessment is needed of the best place to allocate it.
Finally we have regular, periodic auditing, whether that be monthly, quarterly or annually. The SEO landscape is constantly changing, and so are most websites, so it's important to keep on top of what's important to a business - and that often means auditing.
In each of the three scenarios the purpose is usually the same: they aim to assess the current situation, and what SEO activity should be carried out going forward.
Types of SEO Audit
There are no hard and fast rules about all the different types of SEO audit, but they typically either cover different elements of SEO, or serve different scenarios. Different people have different names for the same thing, and sometimes names are used loosely and interchangeably.
The lines between each type of audit are often blurred, and in some cases crossover is inevitable - for instance, it's often difficult to completely separate content, how it's implemented on the page, and in turn the technical implications.  
Below we've given a brief outline of some of the most common types of SEO audit. However, it's not unusual to see them grouped together, or completely bespoke pieces of work put together to meet specific needs.
Website SEO Audits
At Sitebulb this type of audit is our 'bread and butter' - it's what the tool was designed for, so we've spent a fair bit of time discussing what they are (or should be) called.  
When people refer to an 'SEO audit', this is often what they mean. It's also sometimes called an 'on-site' or 'technical' audit (we'll explore how technical audits differ in the section below).
A loose definition would be to say that it covers everything within the website property. But that doesn't tell the full story as some areas (such as the on page content) aren't typically analysed in the same way as they would be with a more specific audit (e.g. a content audit).
Some of the core areas typically included are:
URLs and website structure
Page elements (page titles, meta descriptions, headings, etc)
Internal linking / redirects
Duplicate content / canonicalisation
Schema / structured data
Crawlability / indexability
Page speed
Security
Although some analysis is usually carried out on content, it typically doesn't entail as thorough a review as a content audit does. Similarly, although elements are covered which might be considered 'technical' to many, it doesn't usually delve into hardcore technical issues such as server optimisation which would be included in a 'technical audit'. 
Technical SEO Audits
As we covered earlier, there's often crossover between what's seen as a 'technical SEO audit' and 'website SEO audit'. Definitions vary and there's a lot of scope for overlap in several areas. Some people might refer to a 'website SEO audit' as a technical audit, yet others would argue that only a small portion of the elements covered would qualify as 'technical. Needless to say it's a contentious subject, but what's important is that when carrying out your own audits, the scope is well documented and understood by all stakeholders.
Some of the core areas typically covered in technical SEO audits include:
Hosting/server issues
Security
Code coverage and page resources
Crawl errors / indexing issues
Website architecture / URLs
Canonicalisation and internationalisation
Robots.txt and XML sitemaps
Schema implementation
Page/website speed
Mobile/desktop parity
JavaScript / rendering issues
You'll probably have spotted that there's a lot of overlap between the list above, and the one for 'website SEO audits', but the main areas that technical audits tend not to cover are on-page issues and content.
Although auditing largely relies on your own investigation, Google Search Console is a good place to start. If Google is flagging issues with your website, then it's usually safe to say that these are worth prioritizing.
SEO Content Audits
Once a solid technical foundation is in place, the next pillar of SEO to address is content. It's pretty self explanatory as to what a content audit looks at. And 'SEO content audits' just take things a step further by assessing the content from an SEO perspective.
If you're in any doubt as to the value that content audits can offer, just have a read of Curt Storing's piece on 'How my Content Audit Process Secured a 6-Figure Sale of my Website'.
And whilst these sort of results might not be typical of every content audit, it does illustrate why content isn't just something you should set live and forget about.
The depth of audits vary, but they tend to take a layered approach:
At the highest level the information architecture of the site is reviewed - this looks at how the site's pages are structured and organised.
At the page level, performance is reviewed by looking at factors like traffic, links, social metrics, conversions and content engagement.
At its most granular level, a review is carried out of the content itself, looking at copy, images and video, etc.
Content audits are rarely a standalone piece of work. Most will revolve around keyword research data and include (or be followed by) keyword mapping and gap analysis.
Deliverables also vary - some audits may look to deliver granular recommendations for the optimization of content, whereas higher level audits may focus on feeding into a content strategy. Of course some may include all of these elements, depending on the agreed scope of the work.
Keyword Audits / Research
Keywords are one of the fundamental elements of SEO. It's important to understand how users are searching for content and products in your website's field, and the intent behind those searches.
Whether you call it keyword research, search demand analysis, or keyword auditing, most SEOs would include it as part of their initial work with a client if it hadn't already been carried out.
To carry out search engine optimisation, you need to know what you're optimizing for. Or in other words, how people are searching for the business/product you're focusing on. Experienced SEOs will often instinctively have a good idea of the search landscape and terms being searched for, but this can usually be built upon with solid research.
The best toolset to use for keyword research is a much debated topic and seems to change as some tools improve and others fall behind the times. There was a time when I carried out most of my keyword research using only Google's own keyword data and a spreadsheet. But the current iteration of Google's keyword tool (the Google Ads Keyword Planner) is much more restrictive and less useful than it used to be, which means these days research is much more reliant on 3rd party SEO tools.
The debate over which keyword tool has the 'best' data set, is much bigger than I can even attempt to address here, so I'll let you do your own research on that one.
Some of the more recent tools like AnswerThePublic and AlsoAsked take a slightly different approach to keyword research, rather than looking at primary search volumes, they focus on pulling data from Google's 'Auto-complete' and 'People Also Asked' suggestions respectively.
Once you have your keyword data (primarily search terms and associated search volumes) the next important part of keyword research is getting data into a useful format. Sorting data into themes and categories is essential. But may audits fall short of going a step further to  
organise and visualize the information in a way that facilitates interpretation and subsequent actions. Gordon Campbell has a great how-to guide on doing just that: 'Using mind maps to sort, organise and make sense of the data'.
If you're looking to get started, the Wordtracker Academy has a whole module of keyword research lessons spanning from the fundamentals through to special use cases like keywords for voice search.
Backlink Audits
Although the details surrounding them may have changed over the years, backlinks have always been a core part of SEO. Without going into the details: the more links a website has, of higher authority and relevance, the better it will perform in Google's SERPs.
With this level of importance, it makes sense to know what links you have pointing to your site, from where and to which pages. Typically competitor data is also used to put your backlink profile into context. And from this, issues and opportunities can be identified.
One such area of issues which has taken on increased importance over recent years is that of toxic links. Back in 2012 Google unleashed it's first Penguin update, designed to target what it considered to be 'dodgy' backlinks - In the world of SEO, chaos ensued.
With increased scrutiny from Google of backlinks, and very prominent risk of penalization, a whole new array of SEO services appeared to ensure risk mitigation of links and carry out 'cleanups' where required.
By the summer of 2016, 'Penguin' had evolved to become part of Google's core algorithm, and consequently run in real-time rather than the periodic updates we'd seen previously. This meant that the consideration of toxic links became more of an ongoing activity, and as a result the demand for standalone link audits reduced.
Local SEO Audits
Local SEO is an often forgotten subsection of SEO, but it forms a massive part of the industry. For bricks-and-mortar and service based businesses it's become essential in order to be found in the Google centric world we now live in.
For more background on what 'local SEO' entails, have a look at this guide from ahrefs here.
The scope of what local SEO audits cover varies, but most I've seen fall into one of two categories:
An audit carried out for a business primarily marketing to a local audience/s. This audit would often incorporate all areas of SEO relevant to that business.
An audit carried out for a business which is not primarily focused on 'local' but does service local audiences. For example - a local seo audit for a supermarket chain would focus only on factors deemed to be specifically relevant to local SEO rankings.
At the core of most local audits is a business's Google My Business page, followed by links, citations and reviews. Landing pages and on-site SEO also play a crucial part in local rankings. But as these also fall under the remit of a website SEO audit, whether or not they're included here often depends on what other audits have already been carried out.
If you're looking for step-by-step guidance, then this guide from Jamie Pitman on 'How to Conduct a Local SEO Audit' is a good place to start.
SEO Competitor Audits
This is another audit that often tends to be merged with other work, but sometimes done as a standalone piece.
Essentially, it involves analysing the competitive landscape. But this landscape might not be quite as straightforward as you'd first think. I tend to approach it from two angles:
Business competitors - It's likely that most businesses will have a good idea of who their main competitors are (or at least think they do). These will tend to be very similar to their businesses and be in obvious, direct competition.  
Search landscape competitors - Some businesses never think beyond their direct business competitors. But in reality, it's often completely different websites that they're competing against in the SERPs. The website ranking above you, for your target search terms, might not even sell the same products as you. They might not even sell anything! But if they're competing for the search engine shelf space you need, then they're potentially more significant than who you traditionally think of as business competitors.
A competitor audit (or 'competitor analysis') looks at who your competitor are, what they're doing well, what they're doing not so well, and what you can learn from this (and the subsequent actions that can be taken).
One of the outputs of a competitor SEO audit is usually some form of benchmarking which can be used to monitor performance against going forward.
If you want to do an audit of your own, Jennifer Slegg has a great piece on the Semrush blog, covering how to get started with doing SEO competitive analysis.
Mobile SEO Audits
For years 'mobile' was held up as the 'next big thing' in SEO and audits to ensure compatibility were all the rage.
With the rapid increase in mobile usage, Google in turn increased its emphasis on the need for websites to be mobile friendly. Mobile's importance for SEO has been increasingly integrated into the core of Google's ranking considerations until in March 2020 they made a pretty clear statement:
"we'll be switching to mobile-first indexing for all websites starting September 2020".
In 2021 'mobile SEO audits' should be pretty much extinct. Mobile compatibility isn't a standalone consideration for SEO anymore, it's part of everything we do and as such needs to be integrated into any SEO work carried out.
With Google's mobile-first approach mobile/desktop parity is key. Essentially, if something doesn't work or isn't visible on mobile then Google won't (on the whole) consider it. If your mobile site is a cut-down version of the desktop site, then it's that cut-down version that Google will index. For more details on the 'how's and why's' of parity audits, have a look at this post from Patrick Hathaway on 'Preparing for Google's Mobile-Only Index
Forensic SEO Audits
Forensic audits differ from most other types of SEO audit in that rather than taking a prospecting approach to find issues and opportunities, they instead react to a specific issue and look to uncover the causes behind it.
The usual trigger for these audits are an unexplained drop in organic search traffic and/or ranking ranking drops. Basically, if a website's performance drops then a forensic audit is used to find out why and lead the way in forming a solution.  For this reason, they're often called ranking-drop or Google penalty audits.
These type of audits were more common in the days when Google would occasionally roll out big updates often resulting in a website's traffic to plummet without much explanation. These days Google tends to (although not always) release more incremental algorithm updates more regularly. So although performance drops do happen, they're not the panic inducing cliff edge drop-offs that we used to see.
One such scenario which would call for a forensic audit would be if you'd fallen victim to one of Google's dreaded penalties or filters. With penalties (or manual actions) Google gives you a heads-up in the form of a notification in Google Search Console outlining the issue. Whereas algorithmic filters are more tricky as they don't come with any notification and are therefore reliant on investigation to diagnose the source of the issue. For a more in depth explanation, have a look at this article from Nick Churick and Marie Haynes on Google penalties and how to investigate them.
Due Diligence Audits
Although not strictly an SEO audit, due diligence for internet based businesses inevitably requires auditing of their website and online presence.
If the cost of a business or website is based even partially on performance driven by search engines, then it's prudent to understand how it is being achieved, along with any potential risks to it.  
This article from FE International outlines the wider due diligence process for internet based businesses.
How Much Should an SEO Audit Cost?
Whether you're the one selling audits to clients, or you're looking to commission someone else to do an audit, one of the first questions that usually comes up is "how much?".
I've seen audits for sale on Fiverr for as little as ~$10, and I've been involved in large scale, multifaceted audits costing well in excess of $30k. These are extremes, and neither are likely to be the best fit for most cases.
There's no simple formula for assigning a cost to audits. Costs will vary between different types of audit as well as what the individual client requires. But as with any piece of work the goal is to balance value delivered to the client against making sure you're appropriately rewarded for your time and resources.
Some SEOs productize audits based on a set of criteria (usually the size of the website), and a predefined set of deliverables. But most take a more case-by-case approach, individually costing audits for each client.
There are pros and cons to both approaches. Standardised pricing provides a simpler 'product' to advertise and for sales teams to sell. But to offer the most value we always recommend a bespoke approach with scoping carried out before agreeing a cost.  
So although there's no simple formula, the process (in theory) is straight forward:
Scope out what needs to be audited and deliverables required
Estimate how long this will take (i.e. required resource)
Cost = Estimated required resource x day rate
In practice though, it's not quite so straightforward. For any type of audit there's a whole range of factors that need to be considered such as the size of the website, its structure and technology used, the competitive landscape, legacy issues, history of the site, and many more.
Audits are very difficult to put a value on too. We all know of instances where the actions from a single audit finding has resulted in an amazing uplift in rankings/traffic/sales. But audits present a 'Catch 22' of not knowing what's there until you do the audit.
Stephen Kenwright, summed up the the situation well in a recent Linkedin update: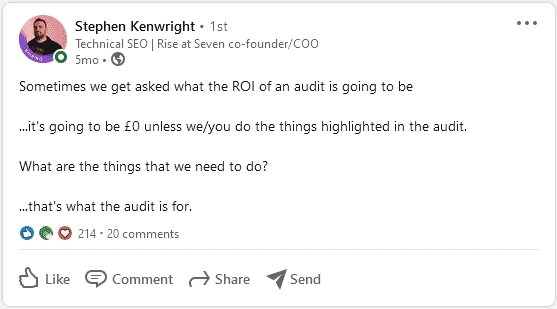 What Type of SEO Audit do I Need?
This is the question you need to ask yourself before even considering costs.
It's not simply a matter of choosing one of the types of audit I've talked about. You must focus on what the business needs and how best to use the tools in your arsenal (which includes audits) to deliver that. It might be that multiple types of audit are needed, or just specific elements of a particular one. There aren't any rules you need to stick to with this.
Tailor your solution to fit the problem - don't just offer a standardised service, then try to justify why it's needed.
You'll need to consider business type, historical performance, competitors and other specific circumstances. As well as understanding what they're trying to achieve with SEO.
Inevitably, budget can often define what's possible, and you need confirmation that there is at least a reasonable budget before even investigating this stuff. But it's better to start with a 'need', than with a budget that needs to be spent.    
And at some point you may need to ask the question:
"Do I really need an SEO audit?"
Or even:
"Does my client really need an SEO audit?"
Recommending something different, or even turning down work is often a hard thing to do. But it can be the best option in some cases.
When writing about this, I couldn't help thinking about a tweet I saw a while back from Ross Hudgens: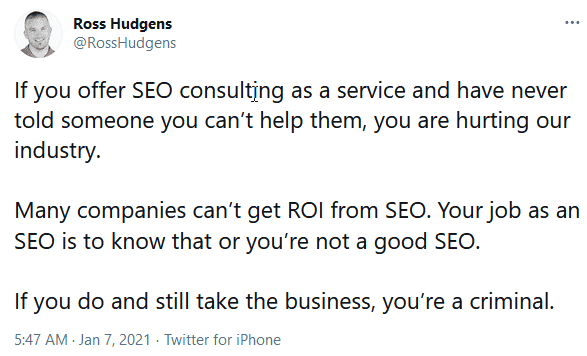 I should probably point out that Ross later admitted that his 'criminal' accusations may have been a little strong...

But I think we all still agree on the sentiment!
How Long Should an SEO Audit Take?
So we've already discussed the costing of audits, but until you have an estimate of how long it will take, any costing applied is likely to be arbitrary. In most cases thorough scoping is required before you can calculate  the cost for a piece of work.
Some sample audits or those looking at specific elements may be carried out within a day (although it could be argued that these aren't actually audits), whereas in-depth auditing of large scale sites can run into several weeks.
There are some occasions where a set budget may be available. In these instances the process can be flipped on its head. If you know the budget, and how much resource/time that equates to, then it becomes a matter of assessing where the time would be best spent to return the most value.
It's also important to recognise the difference between the resource it takes to carry out an audit, and turnaround time. For instance, an audit might be priced based on an estimate of 3 days of resource, but the turnaround time may be several times that due to scheduling, technical dependencies and individual preferences to ways of working. This may seem like common sense, but when dealing with clients or other stakeholders it's critical that these sort of expectations are managed.
Should I Use a Tool to do SEO Audits?
Yes and no.
It's difficult to talk about audits as a whole as the requirements of each vary so much. But for most types of audit you're going to need a website crawler and spreadsheet as a minimum. Specialist audit tools can facilitate the process further by helping to analyse and make sense of data (like Sitebulb does for SEO website audits).
What you shouldn't do however, is rely on tools alone. Automated audits and reports may have their place, but without expertise and manual analysis applied they offer limited value and shouldn't be considered comprehensive audits.
Conclusion
Hopefully this guide has given you a good overview of what types of SEO audit there are, why they're important, and how they can be used.
One of the key points I've tried to get across, is that there is no such thing as a 'standard' SEO audit. Even for each type of audit, different people will approach them in different ways. And in every instance, an audit needs to take into account the specific scenario of the website and business it's carried out for.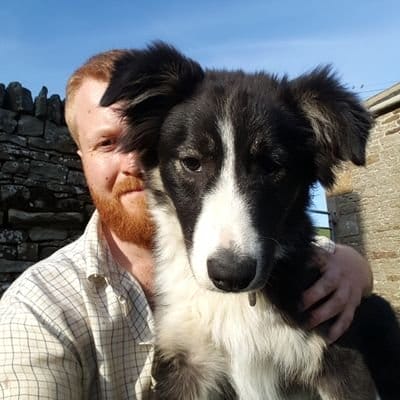 Geoff does marketing 'stuff' and other things at Sitebulb. He's been one of those SEO types for a long time now, so should know what he's talking about, but that's debatable, feel free to debate it some more.