Intro to Why Good SEO Supports Accessibility
Patrick Hathaway
Published 13 October 2022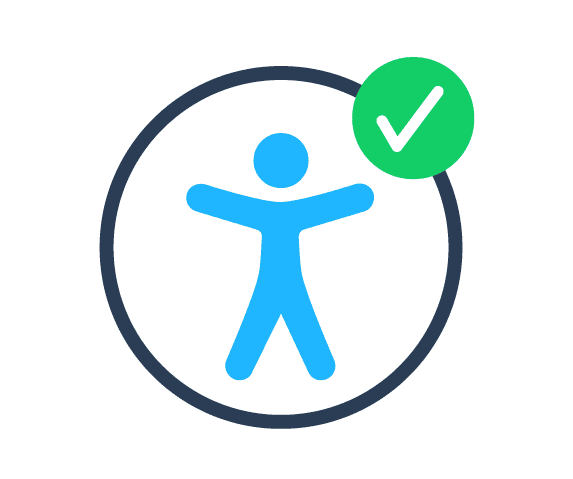 Welcome to a 4-part blog series about search engine optimization (SEO) and its interconnectivity with accessibility ('A11Y' - because there are eleven characters between the 'A' and the 'Y'). With this series, Patrick Hathaway from Sitebulb and Matthew Luken from Deque Systems will each write complementary articles on the subject from their unique points of view.
Each article that I write for Sitebulb will be complemented by a similarly themed article on the Deque blog, written by my partner-in-crime in this endeavour, Matthew Luken, who works for Deque.
Where I'll be writing from an SEO-first perspective, Matthew will be writing from an accessibility-first perspective, so our hope is that you read both articles and see how our worlds collide. You can find Matthew's article here.
Introduction
Both SEO and website accessibility are specialist, niche disciplines that have seen explosive growth since the turn of the century, and will continue to grow as the world becomes increasingly digital.
To us in the SEO world, accessibility perhaps seems like a 'nice to have' rather than an essential consideration when optimising websites. We're here to argue that this should not be the case.
And make no mistake, website accessibility is big business. Deque's axe-core testing library - which is what we utilise in Sitebulb for our Accessibility report - receives 10 million downloads every week.
The interesting thing is that the ongoing evolution of SEO means that it intersects and overlaps with accessibility in a number of different ways. The crossover point, as we shall see, is user experience.
The ultimate goal of the internet
At its very foundation, the internet was designed to provide global access to data and communications, removing both physical and socio-economic barriers in the pursuit of digital equality for all users.

And this goal is also reflected in Google's rhetoric;

As SEOs, we so often find ourselves dancing to the beat of Google's drum, and awareness of their goals and mission can help us understand the future direction of the industry.
And if you think about it, of course it makes sense that Google cares about accessibility - the goal of their search results is to satisfy the queries of search engine users… ALL search engine users.
When we consider that 15% of worldwide web users are people with disabilities, we then need to ask if a given web page is also a good match for these search engine users.
SEO is optimising for more than just search engines
SEO - or at the very least - technical SEO, requires us to structure and organise content so that it can be ingested and understood by search engines.
And, in more cases than not, we find ourselves working with websites that are, at least, functional - where the goal is to take the website from being simply functional to being 'optimised.'
As the discipline of SEO develops and matures, what constitutes optimisation continues to evolve, and we are being challenged to optimise not just to satisfy search engines, but also for the search engine users at the end of the chain.
User experience is becoming a core part of SEO
More and more, in fact, we are being pushed to consider UX as a facet of search engine optimization.
Consider some of the changes we have been forced to consider in recent years;
Quality updates
In its infancy, SEO was a results-first business, where search engine rankings could be achieved without much thought or care for the user on the other end of the search query.
Over time, Google has stamped out many of the loopholes in their algorithms that allowed large-scale, low-quality practices to be effective - starting with Panda way back in 2011, progressing through to the 'Quality Update' of 2015, to where we are today in our current state of rolling 'broad core algorithm updates' - they have sought to help people find 'high quality' sites by reducing the rankings of low-quality content.
In doing so, they slowly but surely managed to shift the mindset of (most) SEOs away from trying to game the system, and more towards producing uniquely valuable content from trustable, authoritative sources.
"Search is a complicated and evolving art and science, so rather than focusing on specific algorithmic tweaks, we encourage you to focus on delivering the best possible experience for users."
Mobile-first indexing
Google now predominantly uses the mobile version of a web page for indexing and ranking purposes, where historically they had always used the desktop version. This adjustment, which started rolling out about 5 years ago, was both significant and challenging for Google to achieve (it took them many years to finally get there).
The sheer effort of this endeavour reflects Google's stance on user experience - since more people were now accessing web content on mobile devices, they needed to ensure that they were using the mobile version of the content when evaluating the relevance of a page to the user's query.
Mobile-first was of course preceded by the mobile-friendly update ('Mobilegeddon'), a play to encourage website owners to embrace responsive design by 'boosting the ranking of mobile-friendly pages on mobile search results.'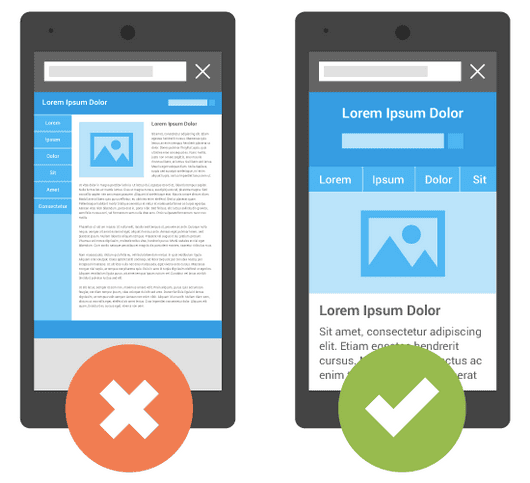 By impacting search results so directly, Google was able to influence SEOs, website owners and CMS platforms to embrace mobile, ultimately improving the mobile experience for everyone.
Page experience
Summer 2021 saw the rollout of Google's page experience update, a ranking signal comprising several elements related to how users perceive the experience of interacting with page content.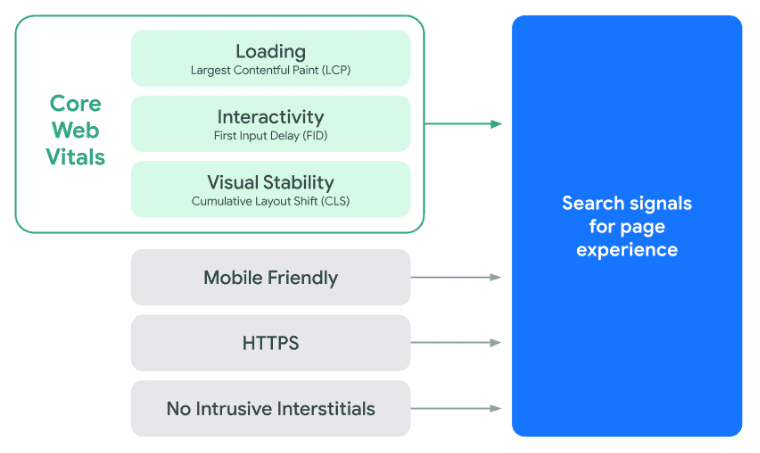 Central to this update was the rolling in of Core Web Vitals metrics, which are collected from real user data (via the Chrome User Experience Report) and focus on three aspects of the user experience - loading, interactivity and visual stability.
Google wants us to care about what the experience feels like when actually viewing the page - and they want to reward pages that offer a better experience.
And, if you believe what they say(!), this is an area that will only grow in the future:
"Our work is ongoing, which is why we plan to incorporate more page experience signals going forward and update them on a yearly basis."
Is it outrageous to suggest that accessibility could become one of these signals at some point in the future?
Good for accessibility and SEO - it can be both
A lot of accessibility best practices are designed to ensure that people using screen readers are able to understand and navigate on-page content. It turns out that these are the same things we do to help ensure that web page content can be parsed and indexed by search engine crawlers.
For example, if we consider some on-page SEO fundamentals, they include things like;
Use a meaningful and descriptive page title
Include short, descriptive alt text on images
Use a single, descriptive header 1 tag
Which are all also accessibility staples.
Googler John Mueller neatly summarised it as follows;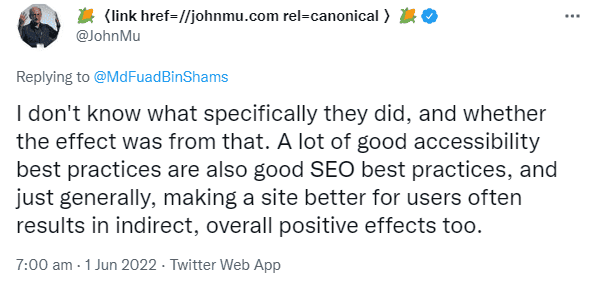 As we know from never-ending battles with clients or dev teams, implementing SEO changes by retro-fitting them to existing websites can be a frustrating and often fruitless endeavour. The same is true for accessibility improvements - especially when they require compromise on the design front.
The reality is that it is almost always better to design and build websites with both SEO and accessibility in mind. Which is just another way of saying, 'Design websites that are optimised for users - all users - and for search engines.'
What's the scale of the
problem

opportunity?

Technical SEO is a combination of fixing issues that may be restricting a site's organic search performance, and identifying opportunities for potential growth.

Some website owners need to consider accessibility compliance as a matter of course. Public sector websites in the UK must conform to the international WCAG 2.1 AA accessibility standard.

In the USA, the Americans with Disabilities Act (ADA), which is over 30 years old, was not written with digital in mind, therefore there is currently much inconsistent interpretation and consumers are having to drive change via litigation. Not to mention other regulations around the globe.

Such compliance issues can be considered as parallel to technical SEO issues - and of course they only apply to certain websites.

But every website owner should be thinking about accessibility gaps as potential opportunities.

There are over 1.85 Billions adults living with a disability globally - that's 15% of the world population according to the World Bank - or 1 in 7 people. Here in the UK, the latest estimates from the Family Resources Survey indicate that 14.6 million people are living with disabilities - 22% of the total population. Can your product afford to attempt to only reach 78% of the available market?

The scale of the problem demands your attention, but so too, does the scale of the opportunity.

Don't forget to also read Matthew's counterpart article over on Deque. And stay tuned for the next article in our 4-part series.
About Patrick
Patrick Hathaway is a Director at Sitebulb, where most of his time is spent trying to help Sitebulb's users to make best use of the wealth of data that the software uncovers. As part of this ongoing mission, he has written an entire library of 'Learn More' guides for the 300+ issues that Sitebulb flags, explaining both why a particular problem is worth your attention, and how to go about fixing it. Common feedback from digital agency owners is that this works as an extremely effective training ground for more junior recruits.
About Matthew
Matthew Luken is a Vice President & Principal Strategy Consultant at Deque Systems, Inc. For the four years prior to Deque, Matthew built out U.S. Bank's enterprise-level Digital Accessibility program. He grew the team from two contractor positions to an overall team of ~75 consultants and leaders providing accessibility design reviews, automated / manual / compliance testing services, defect remediation consultation, and documentation / creation of best practices. In this program there were 1,500+ implementations of Axe Auditor and almost 4,000 implementations of Deque University and Axe DevTools. Also, Matthew was Head of UXDesign's Accessibility Center of Practice where he was responsible for creating seamless procedures and processes that support the digital accessibility team's mission & objectives while dovetailing into the company's other Center of Practices like DEI, employee-facing services, Risk & Compliance, etc. He and his team's work has been recognized by American Banker, Forrester, Business Journal, and The Banker. In his user experience and service design backgrounds, Matthew has worked with over 275 brands around the world covering every vertical and category. He continues to teach User Experience, Service Design and Digital Accessibility at the college-level, as well as mentor new digital designers through several different mentorship programs around the USA.
About Deque Systems
Deque (pronounced dee-cue) is a web accessibility software and services company, and our mission is Digital Equality. We believe everyone, regardless of their ability, should have equal access to the information, services, applications, and everything else on the web.
We work with enterprise-level businesses and organizations to ensure that their sites and mobile apps are accessible. Installed in 475,000+ browsers and with 5,000+ audit projects completed, Deque is the industry standard.
Patrick spends most of his time trying to keep the documentation up to speed with Gareth's non-stop development. When he's not doing that, he can usually be found abusing Sitebulb customers in his beloved release notes.