By default, Sitebulb will crawl your website and collect data regarding the content, links and indexability signals.
However, you can also choose to collect additional datapoints, by selecting one or more of the additional options.
If you select the Chrome Crawler, you get some additional options that are not available with the HTML Crawler.
HTML Crawler Data Options
The options you select here will affect the type (and amount) of data that will be collected by the crawler. For example, if you select 'Page Resource Analysis', Sitebulb will also crawl page resource URLs such as CSS, JavaScript and images.
The selections you make at this point will reflect the reports available to you in the final Audit.

Data Options
Page Speed, Mobile Friendly and Front-end

 

- Sitebulb will perform load speed analysis on every single internal HTML URL crawled, and present Hints on how to adjust URLs and page resources to improve performance. It will also check URLs for mobile-friendliness and perform a full front-end audit, including HTML and CSS validation. Note that you will get more data for this if you use the Chrome Crawler.
Page Resources - In addition to crawling and reporting on data for HTML URLs, Sitebulb will also crawl and check page resources, such as JavaScript, CSS, images, videos and audio files. You can click to select which data options you wish to include/exclude in the audit.
International - Sitebulb will crawl URLs specified in hreflang annotations (even if they are on different domains), and check the validity of hreflang and HTML lang attributes. Note that there is no value in selecting this option if the website you are crawling has not implemented hreflang.
AMP - As it crawls HTML URLs, Sitebulb will look for links to AMP URLs - if these are found they will also be scheduled and crawled. The report will also contain data on validity of AMP URLs and canonicals. Note that there is no value in selecting this option if the website you are crawling has not implemented AMP.
Google Analytics - You can connect to a Google Analytics account to access visit, engagement and conversion data for each URL. Additionally, you can select to crawl any other URLs found in Google Analytics (that were not found by the crawler).
Google Search Console - You can c

onnect to a Google Search Console account to access Search Analytics, Keywords and Sitemap data. Additionally, you can select to crawl any other URLs found in Search Analytics (that were not found by the crawler).
Extraction
Available using either the HTML Crawler or the Chrome Crawler are 'Extraction' options, as below. Typically, the reports you can get from these options would be considered tangential to SEO auditing.
An important thing to note regarding extraction is that it may influence the crawler you need to select. For example, if Schema.org markup is added to the page via JavaScript, then you would need to use the Chrome Crawler in order for Sitebulb to pick it up.

Structured Data

 

- Sitebulb will collect structured data and validate it against both Schema.org guidelines and Google's guidelines for their Search result features. We also have a complete guide on Structured Data.
Content Extraction - Sitebulb will collect specific content elements from the HTML, based on custom rules that you define using CSS paths. We also have a complete guide on Content Extraction. 
Content Search - Sitebulb will check each URL for words or phrases that you specify via rules, and count the instances it finds for each rule. Optional advanced configuration allows you combine multiple words or phrases. We also have a complete guide on Content Search.
Chrome Crawler Data Options
There are two additional options that are only available if you select the Chrome Crawler - Code Coverage and Accessibility, which you will find in the Advanced Settings (see image below).
Additionally, using the Chrome Crawler will also give you a LOT more data for the Page Speed, Mobile Friendly and Front-end option. When using the Chrome Crawler, Sitebulb will also check mobile rendering, JavaScript errors, cookie collection, and 70+ other Hints. It will also give you all the most useful performance metrics: TTFB, download time, time to first meaningful paint, DOM load time and page load time.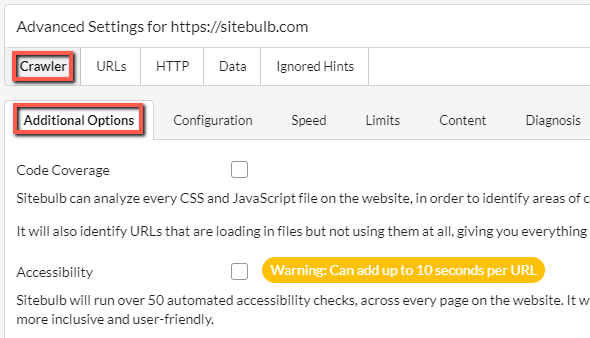 Additional Options when using Chrome Crawler
Code Coverage - Sitebulb will analyze every CSS and JavaScript file on the website, in order to identify areas of code wastage – where code is being loaded in but not executed for rendering. It will also identify URLs that are loading in files but not using them at all, giving you everything you need to clean up your code and reduce the size of your pages.
Accessibility - Sitebulb will run over 50 automated accessibility checks, across every page on the website. It will highlight accessibility violations and identify opportunities to make your web pages more inclusive and user-friendly.
Sitebulb's Recommendation: Don't tick everything
Some users are tempted to tick every box they can, figuring they can just ignore any data they don't want or need. This is not a great idea, in general.
Every checkbox you tick will require Sitebulb to do more processing, which means the audit will take more time and will use more computer resources. On some computers, ticking every single box will mean that it is very difficult to continue doing other tasks.
In particular, Code Coverage and Accessibility are CPU intensive, so only select them if you actually care about the data.