Comprehensive performance testing
It is well established that page speed has a significant bearing upon both user experience and performance in organic search. Yet the performance testing tools most SEO have available restrict you to checking only one page at a time. Sitebulb works differently – as it crawls each page, it runs the content through performance analysis, for both page speed and mobile rendering. The data is then collated and visualized, allowing you to spot the most common areas for potential improvement.
Check download speeds to identify server latency issues

Time to First Byte (TTFB) is the amount of time it takes to receive the first byte of the web page from the server, and is considered a reasonable metric to gauge the performance of a website. To add an extra dimension to this data, Sitebulb also records the time taken to download all the HTML from the page.
Taken together, these metrics can give a good indication of the server performance.       
Sitebulb also charts this data against web crawl depth, so you can see if certain page types (e.g. subcategory pages) or areas of the site (e.g. blog) are performing worse than others.

Check 30+ industry-standard speed checks, for every single URL on your site
Easily see where you are going wrong, with dozens of industry-standard rulesets, which are checked against every single URL on your website. Identify the common factors that are slowing down lots of pages, allowing you to prioritize your recommendations more effectively.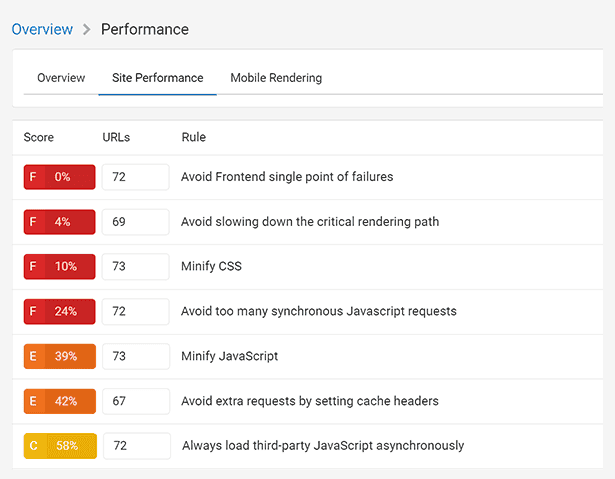 Ensure mobile rendering works smoothly
Sitebulb also checks the most important elements for mobile rendering, telling you exactly which URLs fall down on specific elements, so you can identify issues with ease.