Exporting to Excel
Sitebulb has lots of export options, all of which allow you to 'Save and Open' the file, directly in Excel.
The post will run through the different export options, and what data you can expect to receive for each one.
Report Exports
On each of these reports, you will find a specific 'report export' in the top right hand corner, for example:
Clicking this button generates an export specifically built to contain all the data from the Links report, which you choose to either 'Save' or 'Save and Open'.

Once you've chosen a save location and opened the file, you will see a number of worksheets along the bottom.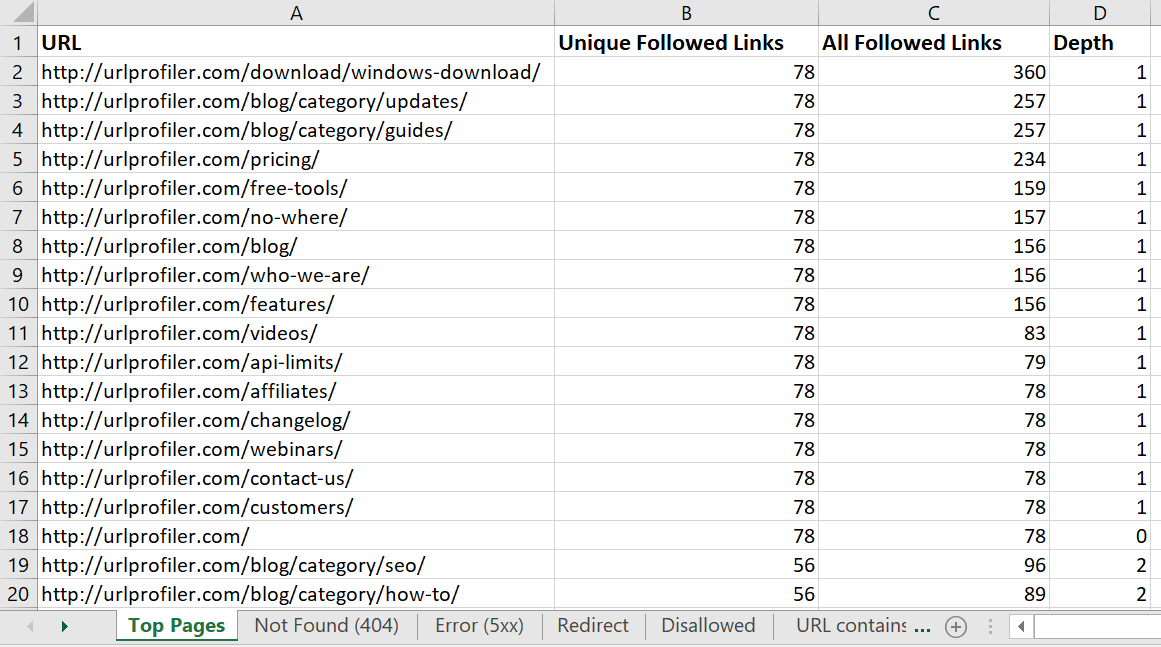 As you can see, the data is nicely formatted, and reflects the data found in the report.
The number and composition of the worksheets will depend on the data;
Top Pages will always be included
Not Found/Error/Redirect/Disallowed will only be included if they are not null (e.g. there actually are some broken links)
All the other worksheets included will be for all Hints triggered (so they are not included if the Hint is not triggered)
So, essentially, the less issues you have, the fewer worksheets you will see.
Each worksheet has been deliberately built to provide as much utility as possible. For example, the 'Not Found (404)' export contains this data:

So for each broken link, the export tells you what the 404 URL is, what type of link it is (navigation, in-content, etc...), the anchor text of the link, and the number of links to this URL across the site (the 'Count'). You can use the 'Example Linking URLs' to help identify where the broken link is appearing in page templates, to easily get it fixed.
Whilst all report exports are different, they are customised to each section of the Audit.
URL List Exports
You can also perform an export from any URL List (you get to URL Lists through the 'Filtered URL Lists' option top left, or by clicking on 'View' links from reports or Hints).
With a URL List, you can filter and sort the data however you want, and choose what columns you want to display using the 'Add/Remove Columns' button.
The 'Export' button on the far right will export all the data contained in this filtered list, with the filters and columns as you have set them up.

This will generate an Excel output file containing the filtered list you have created using the URL List (export up to 1 million URLs).

URL Details Exports
Finally, you can export all the details about a single URL from the URL details view (which you get to by clicking directly on any URL); the export button is in the top right.

The export for this will show all the data associated with the URL on the first worksheet, with other data such as Hints and Link data on the other worksheets at the bottom.