If you've not had a play with Sitebulb in a wee while, here's all the new stuff we've added recently.
#1
 We've made the Hints more helpful
Sitebulb contains over 300 Hints, which are common site optimization checks, pre-processed at the end of each audit and presented contextually in each audit report.
We have recently re-written all the Hint descriptions to do 2 things:
Explain what the issue is.
Explain why this is a problem.
Here is an example:

The first sentence explains what the issue is, and the second sentence gives you some more detail about why this is an issue and what sort of problems it can cause. This gives you ready-made recommendations you can show your clients without needing to write it all out yourself.
We also include little 'Learn more' buttons (which you can see in the image above), which will take you to a page on our website that describes the Hint in more detail, shows you examples that trigger the Hint, and explains how to fix the issue. Check out the example below.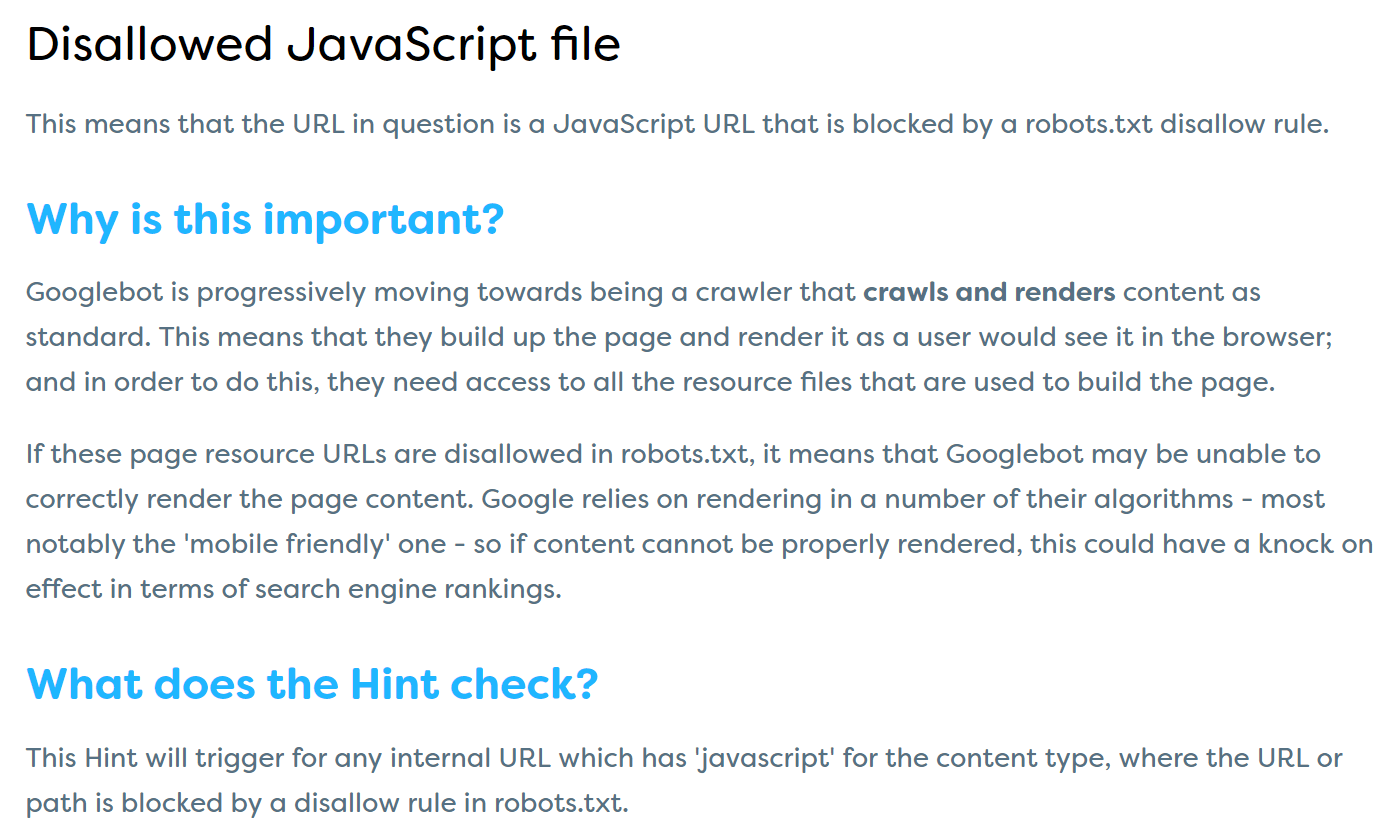 This content will give you clarity on the issues that Sitebulb raises, and allow you to 'learn on the job' with educational resources to hand.
#2 You can now export all the Hint details in one spreadsheet
To make all this rich, useful data more accessible, you can now export all the Hint details, along with the description and 'Learn More' link.
Some of our users have been using this to populate client-facing Google Sheets, to accompany their audit report, while others have been automatically building out task lists by importing the spreadsheet into a project management tool like Teamwork.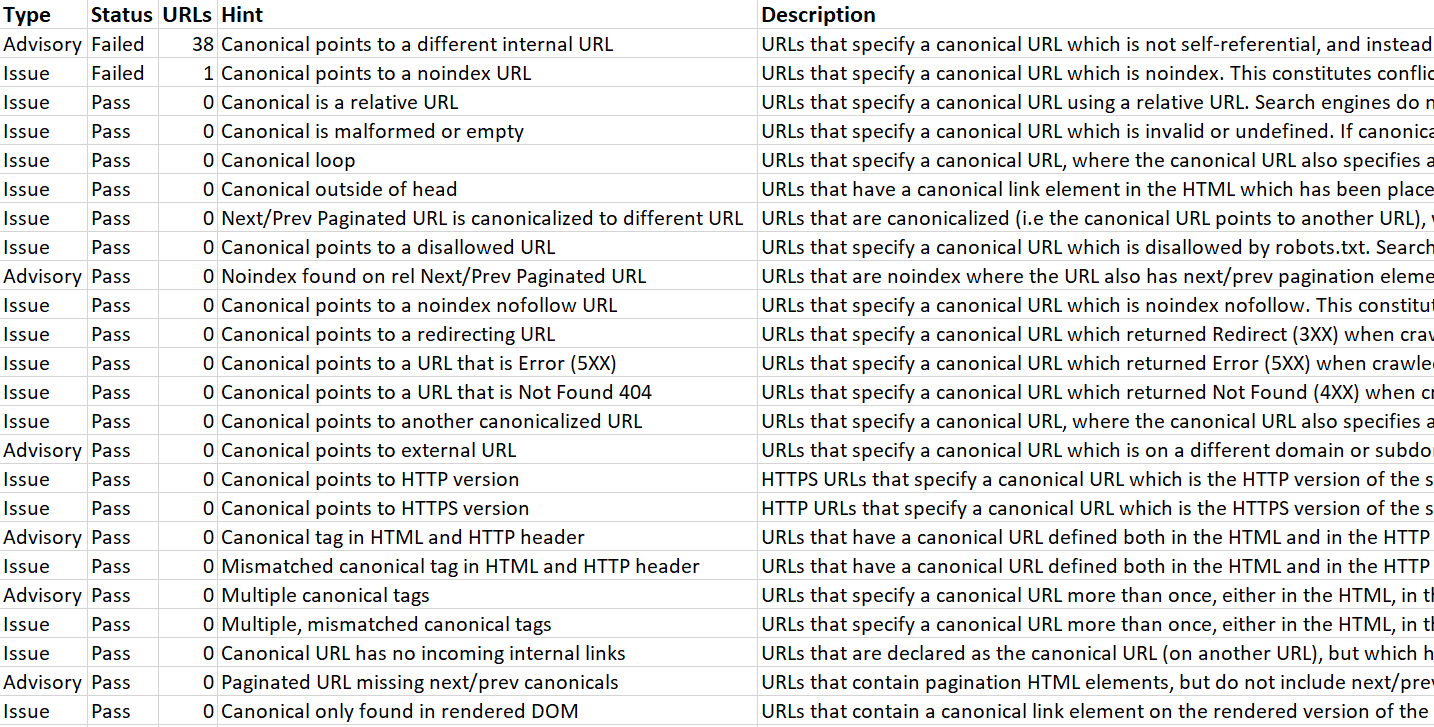 This feature is available for new and existing audits, just go to Bulk Exports and export the 'Audit Summary.'

#3 We've added contextual help for a number of Hints
In addition to all the stuff above, we want to make it as easy as possible to diagnose issues, within the app itself.
To do this, we have added new 'Hint Details' panels to a number of Hints, to help with Hints that highlight on-page issues which are difficult to dig into without searching through source code.
For example, Images with Missing or Empty Alt Text; you can click through to view the Hint Details from the URL List, which will open up a new frame showing you the HTML, with the images without alt text highlighted in the code.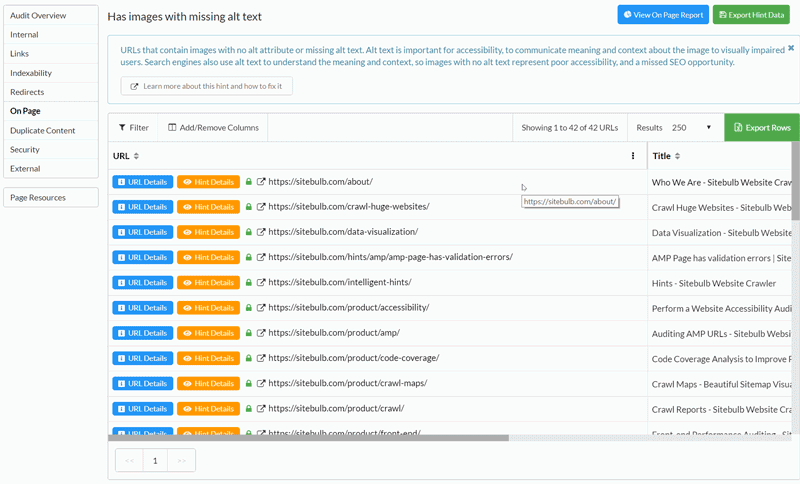 This allows you to better understand what you are looking at, so you can spend more time digging into the issues that really matter.
#4 We now help you see in the dark
Do you like to work late at night and would prefer a less-bright interface?
Are you Batman, and only work in black (and sometimes very very dark grey)?
Do you want your clients, colleagues, or enemies to think that you're actually James Bond?
Enter, night mode: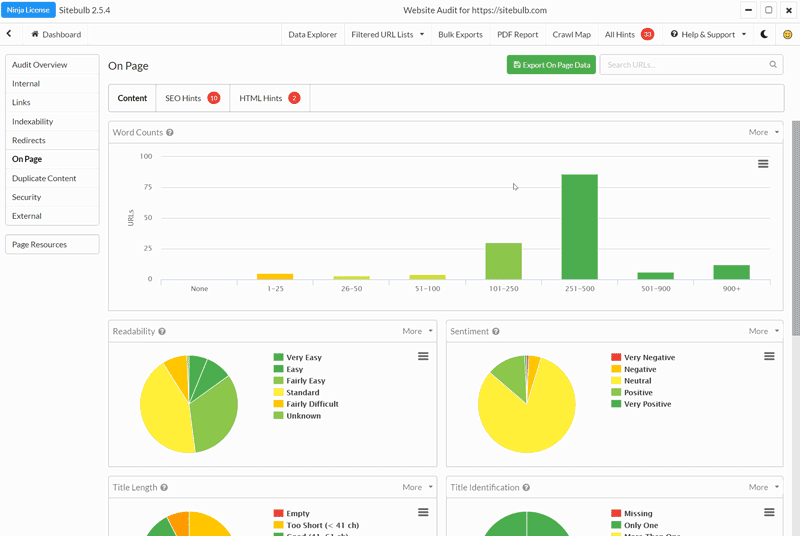 It's the same, only darker, and much, much cooler.
You can toggle day/night modes using this little button in the top right:

#5 Added URL 'Live View'
For any single URL, you can access data about a specific URL by clicking the blue 'URL Details' buttons you'll find on the left in URL Lists.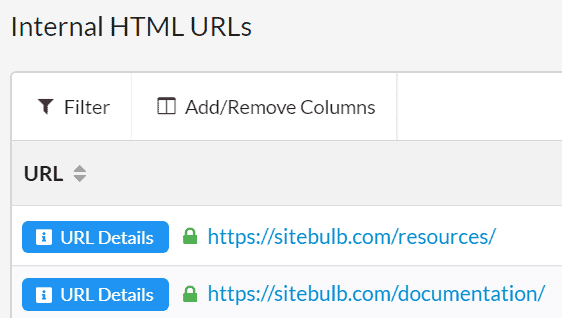 The panel slides out from the right of the screen, and shows more data about each URL, which you can navigate via the left hand menu.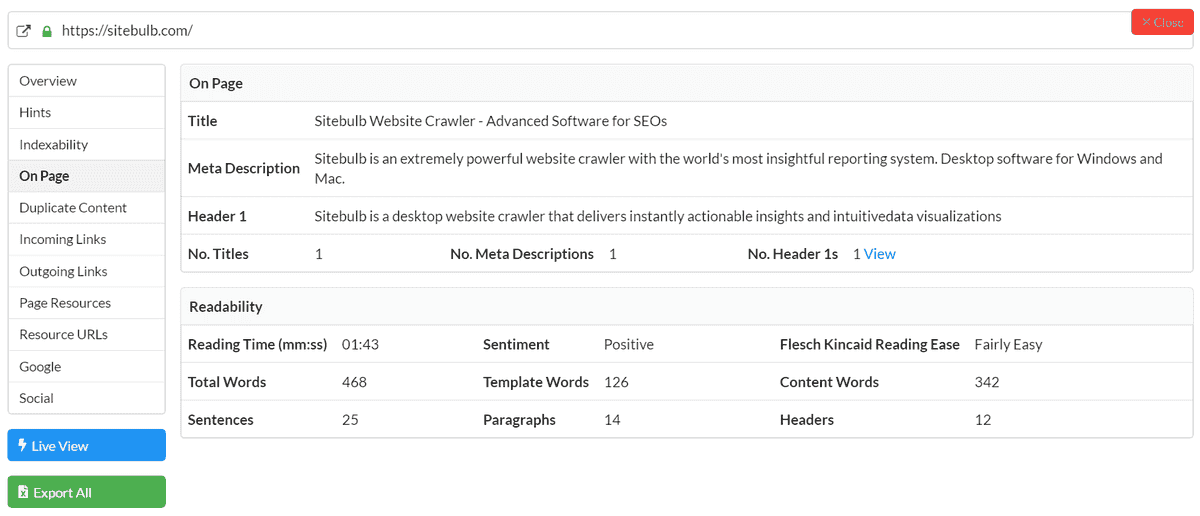 You may also notice the blue 'Live View' button under the menu. Clicking this causes Sitebulb to go and fetch the page 'live' and render the page content (using headless Chrome).
This gives rise to some really useful data:
The response HTML, the rendered HTML, and any differences between the two (super useful for understanding

 

how JavaScript can change HTML content, which may affect crawling and indexing).
Live HTTP Headers (request and response), so you don't need yet another Chrome extension.
Rendered screenshots for desktop, tablet and mobile, so you can quickly compare and contrast (or save for later, should you wish).