Sitebulb Google Integrations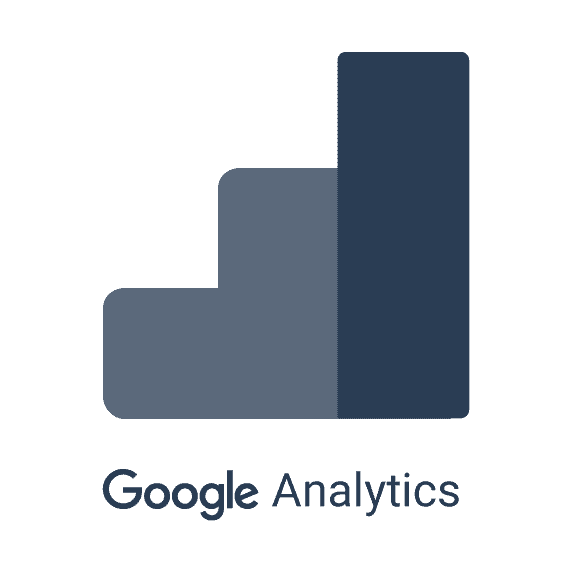 This article explains how Sitebulb enriches crawl data via integrations with Google Analytics and Google Search Console.
We'll explore some of the ways in which this data is presented in Sitebulb's reports, and how to add and remove Google accounts from Sitebulb.
Merging Crawl Data with Google Data
Sitebulb is a website crawler, so most of the data is gathered by the crawler traversing a website, crawling the links found on each URL and collecting data as it goes.
However, this data can be enriched by Sitebulb's integrations with Google Analytics and Google Search Console. Connecting via API, Sitebulb can extract data from one or both of these applications, including visits, impressions and conversions.
Sitebulb uses this data to build the 'Organic Search Traffic' Report: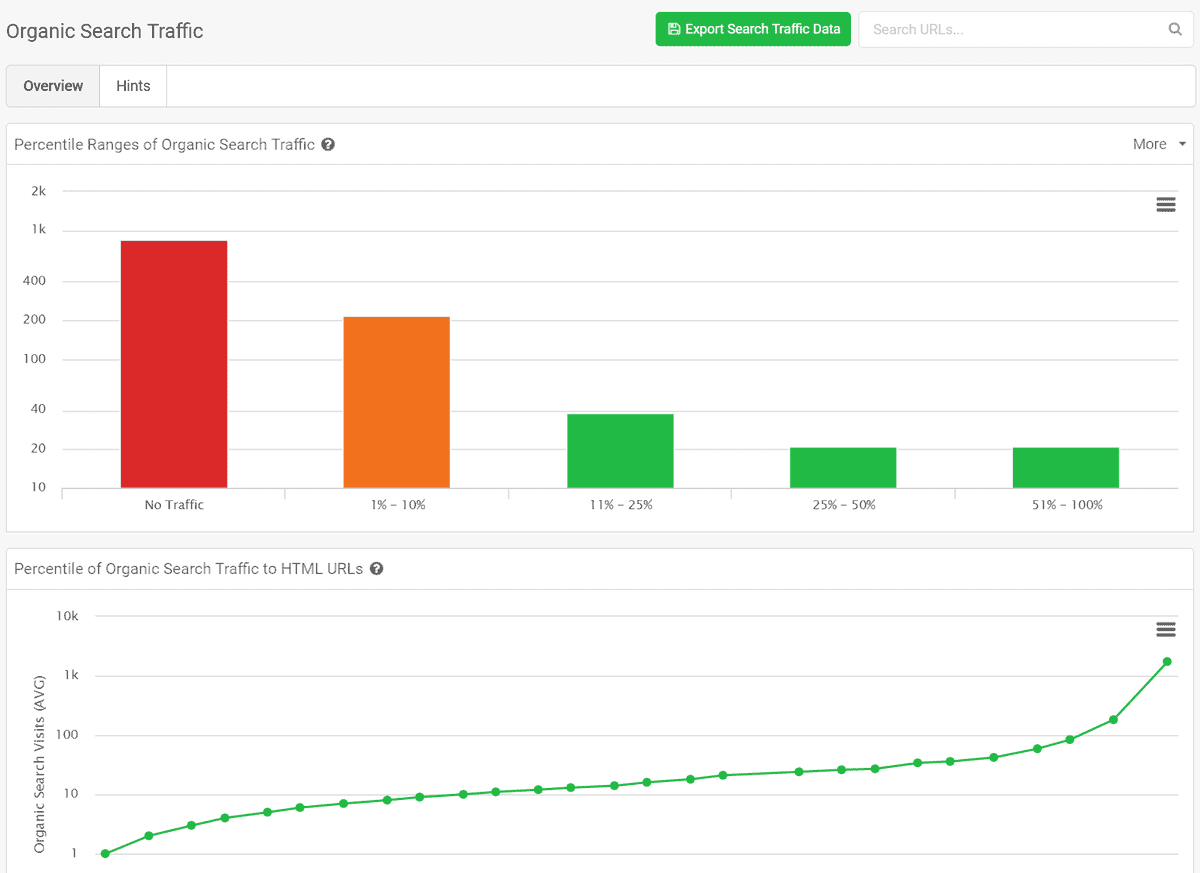 This enables you to quickly spot poorly performing pages, or pages that are receiving little or no search traffic.
Additionally, Sitebulb actually crawls any URLs found in Google Analytics or Google Search Console that were not found during the main crawl (i.e. 'Orphan pages'). In fact, these are URLs that have received search traffic, but are not linked anywhere in the main site structure.
Such orphan URLs can be identified in the graph on the Overview entitled 'HTML URL Sources'. The red flags on this graph are the red and orange columns.

Google Analytics and Search Console data can also be seen directly in the URL Lists, which you can get to via the link in the top left 'Filtered URL Lists'.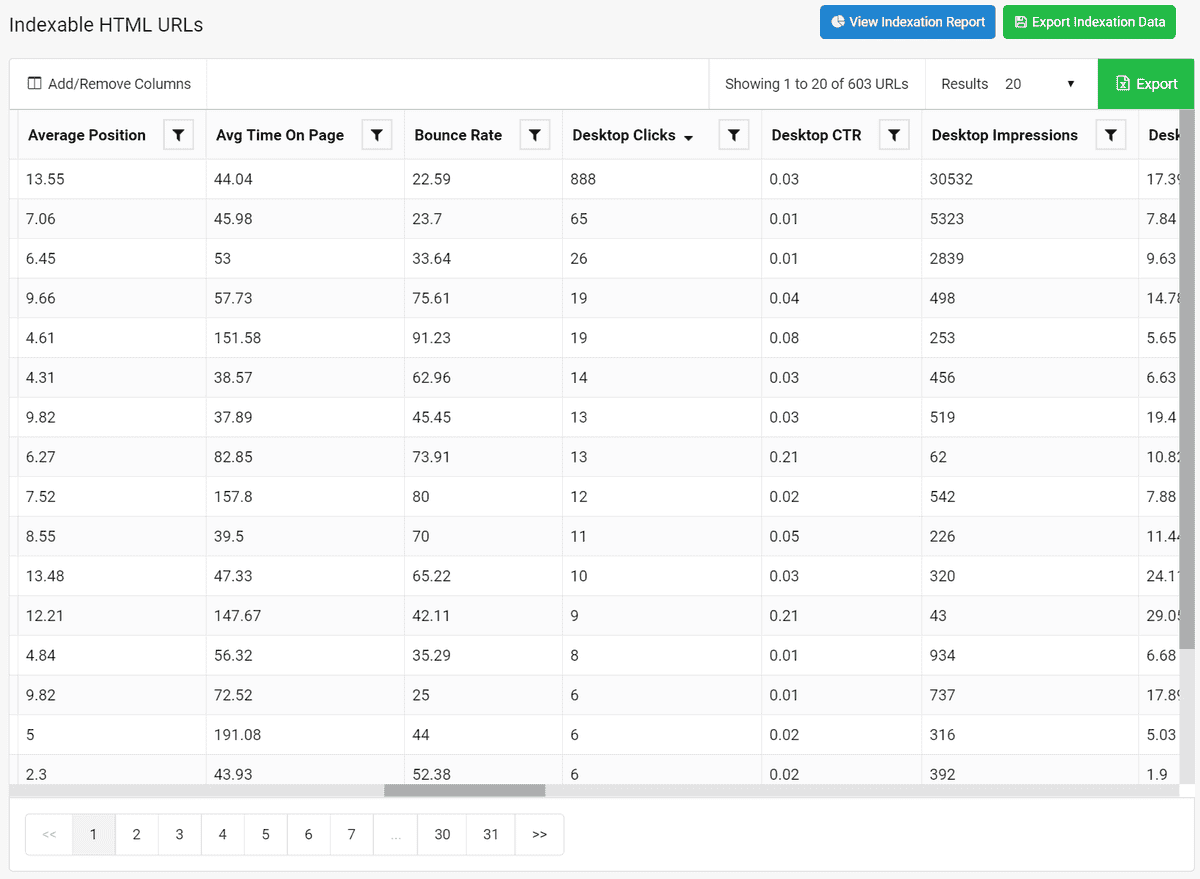 How to Authorise Google Accounts
In order for Sitebulb to gather the data to build the reports you see above, you first need to integrate your Google account.
Fortunately, it's very quick and easy to do.
You add your Google account while you are setting up a new Project, or running a new Audit for an existing Project.
When running through the setup page, you'll see the panels for adding either a Google Analytics account or a Google Search Console one.

If you click to 'Add a Google Account' for either one of these, a popup overlay will appear asking you to sign in: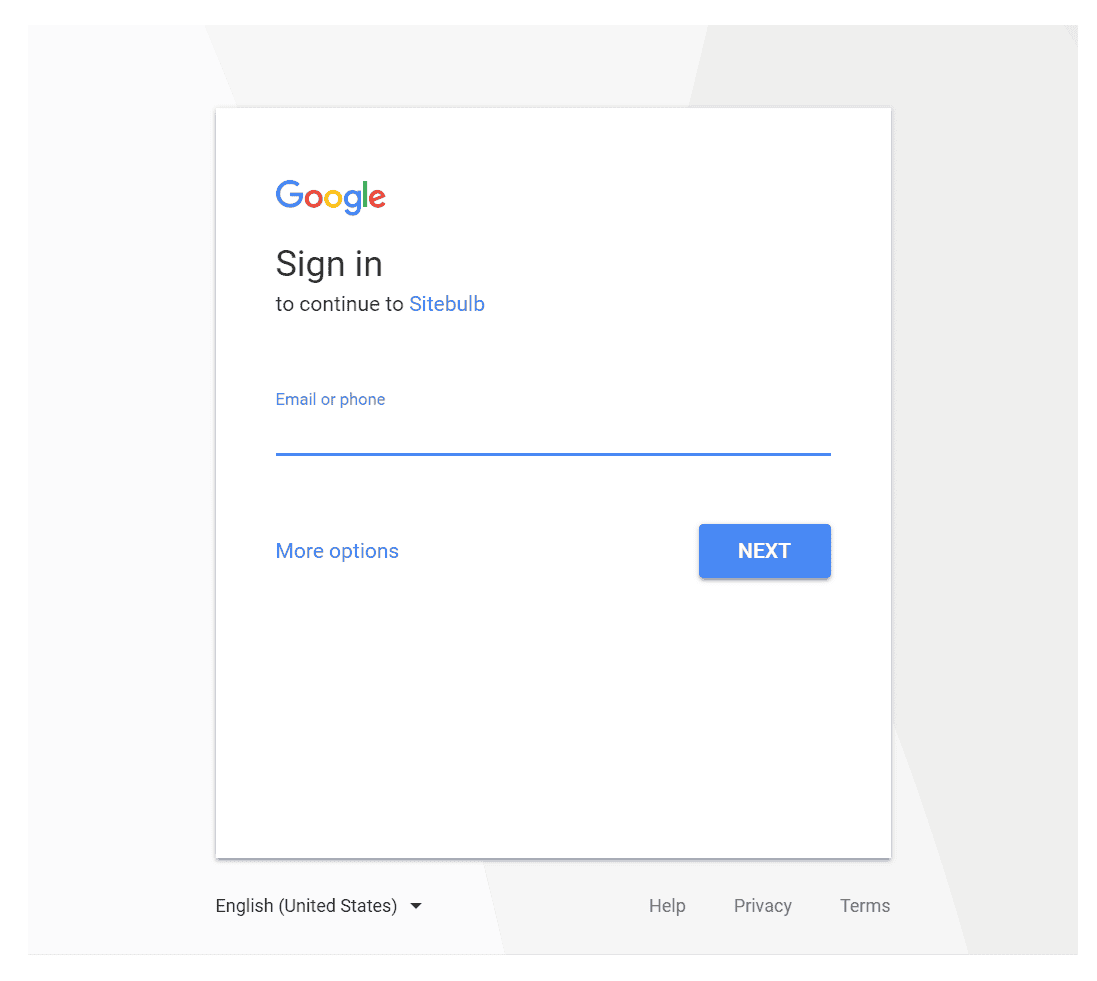 Once you've entered your username and password to sign in, you'll be brought back to the Audit setup page.
Now when you click on the dropdown, you should be able to select the account you just added.

Once you've selected the account, Sitebulb will check the domain you are crawling and match up the correct profile with what was found in Google Analytics. A View will be pre-selected, which you can change by clicking on the dropdown.

The process works in essentially the same way for Google Search Console, although once you have added a Google account once you will not need to add it again (i.e. if you add it for Google Analytics, you don't need to add the same one again for Google Search Console, it will already be there).
Any Google accounts you add in this manner will be active and available until they are deleted from Sitebulb (see below).
Adding a Google Account to an Existing Project
Say you set up a Project when you initially did not have access to the correct Google account, you would have both Google Analytics and Google Search Console inactive for that Project.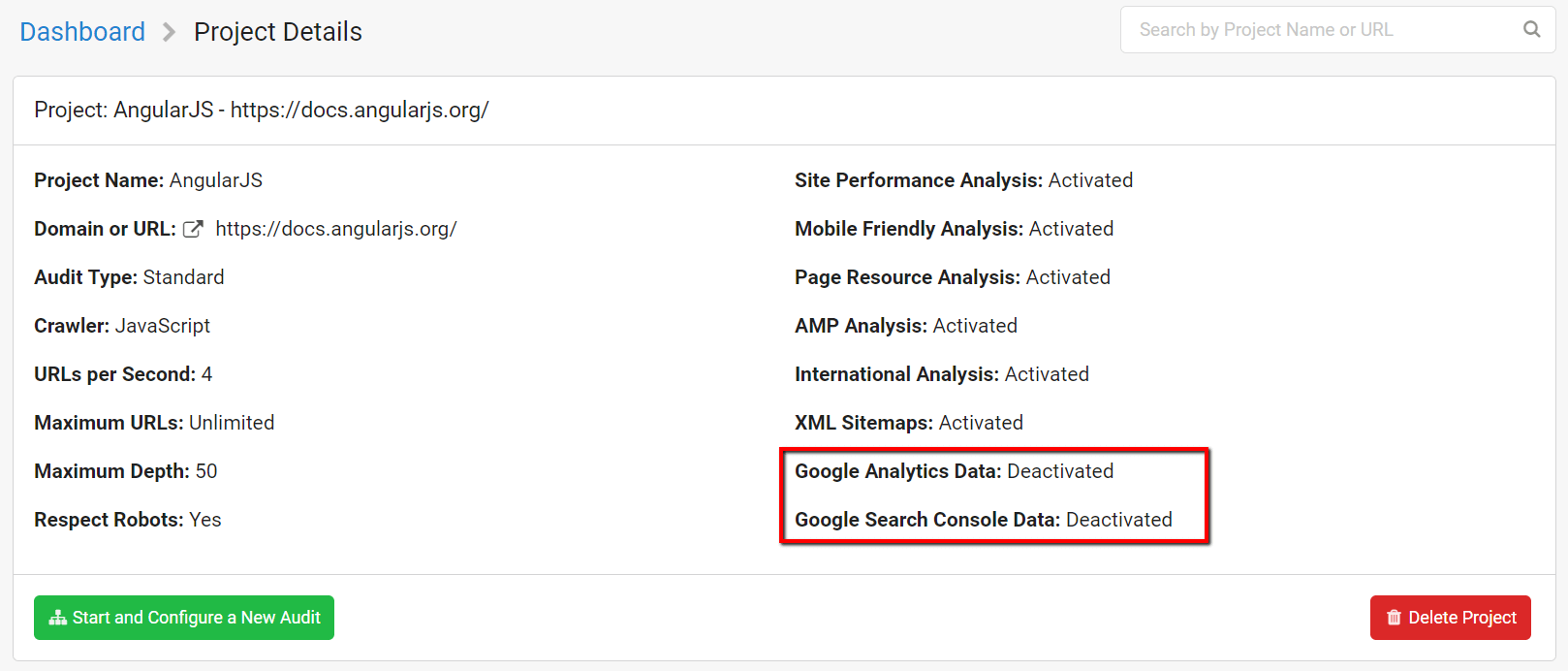 Now, if you hit the green button 'Start and Configure a New Audit', you are presented with the options of either continuing with the previous settings, or changing the settings. If you wish to add a Google account, you will need to select new settings.

This will take you back through the setup process, and you will be able to add Google accounts using the exact same method described above.
Deleting Google Accounts from Sitebulb
Once a Google account has been authenticated with Sitebulb, it will remain 'saved' in the system until you delete the access. To do this, navigate from the Dashboard to Settings -> Google Accounts.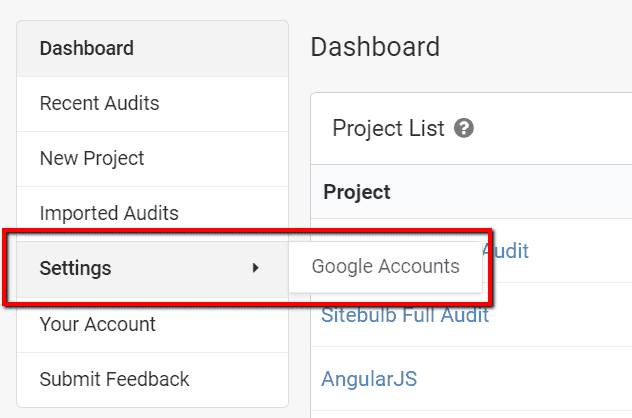 You'll be taken to the Google Accounts screen, which shows you all the accounts currently authenticated with Sitebulb. To delete any of them, just click the red 'Delete' button.

Deleting a Google account from Sitebulb means that you won't be able to use it for any future analysis, so Sitebulb will warn you exactly how many Projects would be affected, along with some examples.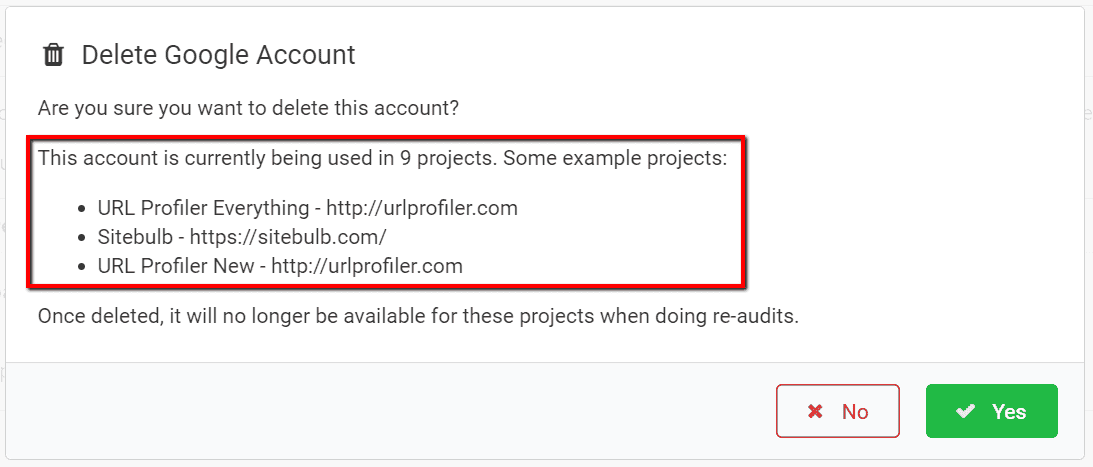 Once you confirm to delete a Google account, it will be listed as 'Deactivated' on the Project page for any affected Projects. This means it will not be available for Re-audits (unless you decide to add it back in). However, data collected in previous Audits will not be affected.