First and foremost, Sitebulb is a website crawler, so all data and analysis created by Sitebulb originates from a website crawl. Audits and Projects are the vehicles used by Sitebulb to organize and store the data that has been crawled and analyzed.
What is an Audit?
Within Sitebulb, an Audit is a set of data and reports obtained from a single website crawl. Every time you crawl a website, a new Audit is created.
From the Dashboard, using the left hand navigation, you can navigate to 'Recent Audits', which shows you all the most recent Audits you have created, and the blue 'View Report' button allows you to navigate to the Report associated with a specific Audit.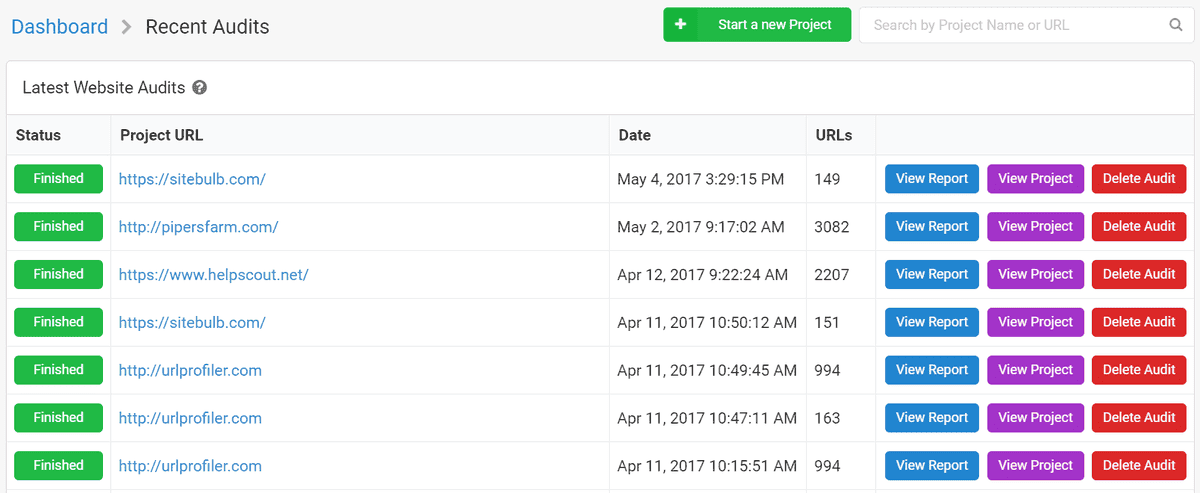 In essence, an Audit 'lives' within a Project. In order to start a new Audit, you first need to create a new Project.
What is a Project?
Projects are the fundamental way in which Audits are organized in Sitebulb.
Every Audit that you carry out in your copy of Sitebulb will be associated with a specific Project, presented under 'Website Audit History' on the Project page.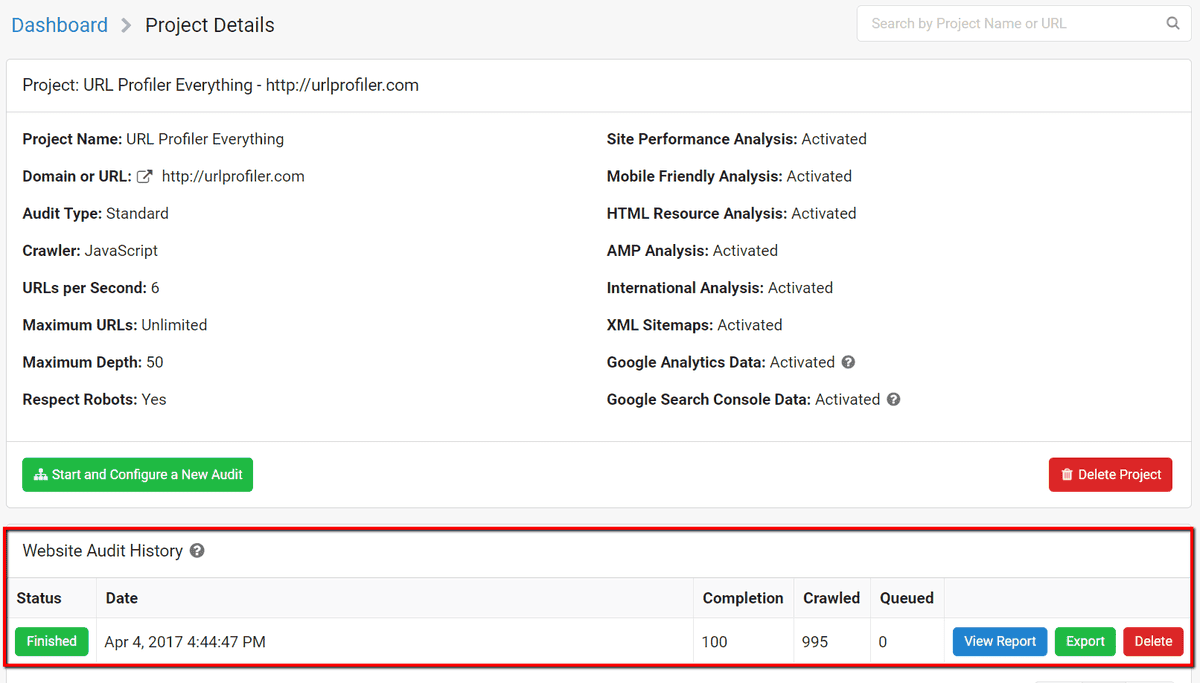 From within the Project page, you are able to view the report for each Audit, and export or delete the Audit. You can also compare any two Audits within the same Project (find out how to compare Audits here).
Fundamentally, Projects offer you a quick way to crawl and audit the same website, using the exact same settings. These settings are visible at the top of the Project page, so you know exactly which options are currently active for this Project.
This means you can easily audit this website again using the same crawl and analysis settings, by hitting the green button 'Start and Configure a New Audit,' which results in the following popup:

If you simply click 'Start with Previous Settings' you can get going straightaway, and Sitebulb will go ahead and re-crawl the site.
To adjust any of the setting, choose the blue 'Start with New Settings' option. It is important to note that this can have the side effect of making 'Compare Audits' less useful, since the crawl data may be gathered in an entirely different manner.